Make a Choice to End Childhood Hunger
Make a big difference in a small way.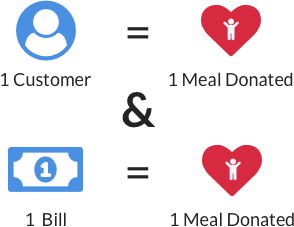 Through ACN's Project Feeding Kids program, you can help end childhood hunger right here at home by simply purchasing and paying for services you are already using and paying for anyway. When you sign up for a service through ACN, one meal* will be donated to a child in need. Plus, every time you pay your monthly bill for select services, another meal* will be provided.
Get 5, Get FREE**!
Refer 5 customers and get your service free**.

*ACN will donate one meal any time someone becomes a customer of the following service: ACN Home Phone Service, ACN High-Speed Internet, Flash Wireless, XOOM Energy, Vivint Smart Home, DISH, AT&T, ACN DigitalTalk® Express and Anovia Payments. ACN will donate one meal each time a customer pays their bill for the following services each month: ACN Home Phone Service, ACN High-Speed Internet, Flash Wireless and ACN DigitalTalk® Express. ACN will donate at least one meal ($0.10) every time someone signs up for residential or business services through ACN and every time the customer pays their monthly bill for Flash Wireless, ACN Home Phone/Digital Talk Express throughout North America between 3/15/2018-3/15/2019. In the U.S.,ACN guarantees a minimum donation of 1.5 million meals to Feeding America to help families and children in need. $1 helps provide at least 10 meals secured by Feeding America on behalf of local member food banks. **Excludes taxes and surcharges. Refer to the terms and conditions for complete details.